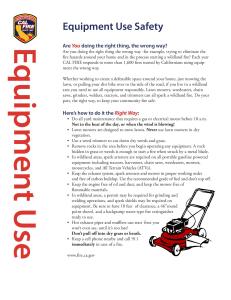 You'll find heavy equipment used on practically all construction projects across America, they are either bought or rented from a plant hire company. From large roadbuilding projects to residential homebuilding, heavy construction equipment is necessary to build and maintain the nation's infrastructure – and staying safe when working around heavy equipment is vital.
If you work with or around heavy construction equipment, you'll have a healthy respect for what these powerful machines can do. Whether you're around a large excavator on a commercial construction site, working with mechanical cables used to lift heavy weights, a grader in the roadbuilding industry, or operating a skid steer on a residential renovation project, you need to be aware of what your equipment is capable of. That includes what it's capable of doing to you. Say, for instance, steel pulleys that are attached to shafts and are used for lifting heavy weights should be chosen carefully, to ensure safety and also optimize the life of mechanical cables. You can always find sources like https://www.savacable.com/how-to-choose-the-right-mechanical-cable-pulleys that could provide you information about how to pick mechanical cable pulleys that suits your requirements. In the same way, you need to make sure your whole construction site is safe and secure, so this means it is cordoned off to the public to prevent them from getting into an accident with any machinery. For example, barriers and bollards like those found here – https://protogetic.com/marketplace/vehicle-barriers/ – are a good place to start. It also means that you must be fully trained and confident to use the machinery and know the risks of what could potentially happen should things go wrong.
Heavy construction equipment can be dangerous when not used properly, but most workers perform daily duties uninjured. That's because they're aware of dangers associated with equipment operation, and they take steps to mitigate potential accidents. These astute operators and helpers truly appreciate the importance of heavy equipment safety.
You can't over-emphasize heavy equipment safety importance. The United States Occupational Health and Safety Administration (OSHA) cites the construction industry as one of the most dangerous occupations in America. OSHA statistics report that 4,693 workers were fatally injured on the job in 2016. Of those, 21.1%, or 991 workers, were killed on construction projects. That's one in five American workers who died due to accidental injuries while working around construction equipment.
According to OSHA, there are four main causes of death and injury to construction workers. OSHA refers to these as the "fatal four" that accounted for two-thirds of all fatal accidents. OSHA further states that eliminating the fatal four accidental causes would save approximately 631 American workers' lives every year. The fatal four accident causes are:
Falls: Falling from a height or off construction equipment accounted for 38.7% of worker deaths.
Struck by an Object: There were 9.4% of workers who suffered fatal injuries after being hit by an object on a construction site.
Electrocutions: Being accidentally energized by electricity accounted for 8.3% of construction worker deaths.
Caught In-Between: The percentage of American construction workers who died after being caught in-between components of construction machinery or materials was 7.3%.
Lessons learned from OSHA investigations indicate that almost all accidents concerning heavy equipment operation were preventable. Working with state and local partners, OSHA changed direction from an enforcement-based safety approach to educational assistance by discussing the implementation of a self closing safety gate in main areas, as well as proper load-handling techniques, etc. With combined efforts of government regulator
s and private forces like employers, unions, and safety experts, American worker fatalities have dropped from 38 deaths per day in 1970 to an
average of 14 a day in 2016
.
Clearly, people across the construction industry recognized the importance of heavy equipment safety. They also decided to take action and improve conditions on construction sites. That included educating workers and providing them with detailed safety tips. One of the most important focuses was to eliminate, mitigate and reduce hazards for those working around heavy equipment.
If you would like more information go to our website at www.cprnmore.com