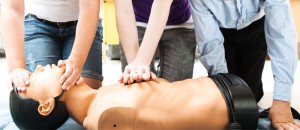 At CPR and More we believe that learning to save a life is one of the most important things you can do. We offer in person hands on CPR and First aid courses from both the American Heart Association and the American Safety and Health Institute. Our online courses are based on the American Safety and Health Institute guidelines. Our hands on courses are both AHA and ASHI classes based on what you need the class for.
We are always working on adding both hands on and online courses where possible. That being said we are proud to announce our newest additions.
First, we have created new online First aid and Water safety courses. These are accessible from the online classes section above. They both cost only $25 each and you get a certificate as soon as you pass the class. You can do both classes in person if you would like.
Second, we are now offering  (EMT) Emergency Medical Technician – Basic course starting June 15th. Check out our information page under the classes tab to see if the course is something you would want to do.
Also, we are your one stop shop for First Aid and Survival kits for your home or office. Go to our store to find our entire list of items and create an account to purchase items and be included in our newsletter email for special offers.
If you have any questions or would like to schedule a class give us a call or click the link to schedule your class online.
Next EMT class starts June 15th!