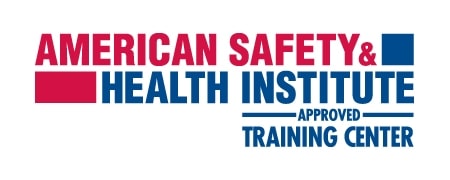 American Safety and Health Institute (ASHI) is a leading provider of basic and advanced emergency care and resuscitation training programs. ASHI training programs have been used to teach and certify emergency care providers in health care, business, industry, and the general public since 1996.
A wide variety of organizations have been approved as ASHI Training Centers, including: local emergency medical service, fire/rescue and law enforcement agencies, hospitals, universities, community colleges, municipal, state, and federal governments as well as public and private corporations and training companies.
---

About ASHI – Program Approval
ASHI's training programs are nationally recognized and are endorsed, accepted, approved, or meet the requirements of nearly 1000 state regulatory agencies and occupational licensing boards, including those licensing Emergency Medical Service providers, physicians, pharmacists, dental health professionals, child care providers, law enforcement officers, school teachers, and many others.
ASHI's resuscitation programs for basic and advanced life support conform to national standards and are based on the same scientific guidelines and treatment recommendations used by the American Heart Association (AHA) and American Red Cross (ARC) for course development. ASHI professional resuscitation programs meet the requirements of the Joint Commission and the Commission on Accreditation of Medical Transport Services.
ASHI resuscitation programs are nationally approved by the Continuing Education Board for Emergency Medical Services (CECBEMS), and are accepted as equivalent to the AHA and ARC by most state regulatory authorities, the National Registry of Emergency Medical Technicians (NREMT), the Department of Homeland Security, United States Coast Guard, and others.
ASHI's basic first aid, CPR/AED, and advanced resuscitation training programs (ACLS/PALS) require successful completion of a written exam and competent performance of hands-on skills evaluated by an authorized Instructor.
The instructional design of ASHI training programs support a "toolbox" approach to teaching. This approach gives authorized Instructors the flexibility to use various instructional strategies to teach, evaluate and certify learners in ASHI training programs.
Training programs are designed to provide a choice of instructional elements to deliver knowledge content, direct and control classroom discussions, conduct practical skill sessions, and evaluate student performance. Training materials include classroom, online, and blended learning elements, print and digital student handbooks with skill guides and scenario sheets, PowerPoint presentations, DVDs, designed to help instructors maximize success in the classroom.
ASHI training programs are ideal for Instructors with emergency medical or other healthcare expertise.
Click here to learn the benefits of learning CPR 
---