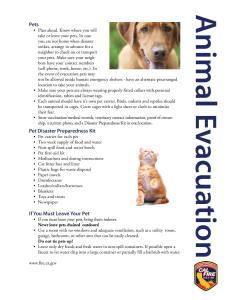 Here are some things you can do to help your pet during an emergency…
ID your pet: If your dog gets lost, he won't be able to give his name and number to a good samaritan. Make sure your pet always wears up-to-date ID tags that include your pet's name, your name and phone number. Consider microchipping your pet as an additional precaution; if your pet is rescued by an animal organization they will be able to scan the chip to obtain your information. Finally, carry photos of your pets so that others can help you find and identify them if you are separated.
Stock pet supplies: Just as it's a good idea to keep 72 hours' worth of non-perishables and water for emergency situations, it's also a good idea to set aside extra food (preferably canned), medicine and other necessities for your pets. You may also want to include a pet first aid kit, an extra collar and leash, a blanket, toys, and copies of your pet's medical records, including vaccinations. Finally, invest in a sturdy carrier for your animal that they can be transported easily and have a safe place to rest in the event of an emergency.
Find shelter: If you need to evacuate and cannot stay with your pets, it's important to have a plan to keep them safe and cared for. Check with local animal shelters or pet boarding facilities to see if they accept pets during emergencies, prepare a list of hotels that are pet friendly, or arrange with a friend or family member to keep your pets until you can be together again.
When disaster strikes: If your home or city is not safe for humans, it's probably not safe for pets, either. Ideally, you should take your pets with you when evacuating in an emergency. If this is not possible, use a rescue alert sticker so that emergency workers know there are pets inside your home. (To obtain a free sticker go to <
a href="https://www.aspca.org/form/free-pet-safety-pack" target="_blank" rel="nofollow noopener noreferrer">aspca.org.) Lastly, remember that the stress and confusion caused by an emergency affects animals just like it affects humans. Comfort your companion animal and don't be surprised if your cat or dog exhibits unusual behavior in a stressful and scary situation.
This is part of a series of safety messages that we are posting for you. At CPR and More we are interested in keeping you safe in all parts of your life. Keep checking back everyday to see what other great information we have for you.
If you have any questions or would like to learn how to do CPR or First aid give us a call or visit our website at www.cprnmore.com 1-800-477-6193