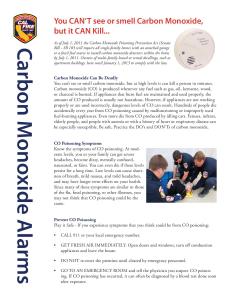 Carbon monoxide is an odorless, colorless gas that often goes undetected, striking victims caught off guard or in their sleep.
More than 400 people in the U.S. die from unintentional carbon monoxide poisoning every year, according to the Centers for Disease Control and Prevention. More than 20,000 visit the emergency room, and more than 4,000 others are hospitalized.
This "invisible killer" is produced by burning fuel in cars or trucks, small engines, stoves, lanterns, grills, fireplaces, gas ranges, portable generators or furnaces. When the gas builds up in enclosed spaces, people or animals who breathe it can be poisoned. Ventilation does not guarantee safety.
How Can I Prevent Carbon Monoxide Poisoning?
Anyone can be at risk. The CDC says infants, the elderly, and people with chronic heart disease, anemia or breathing problems are more prone to illness or death, but carbon monoxide doesn't discriminate.
Winter can be a prime time for carbon monoxide poisoning as people turn on their heating systems and mis
takenly warm their cars in garages. So as the weather turns colder, it's important to take extra precautions.
The National Safety Council recommends you install a battery-operated or battery backup carbon monoxide detector in the hallway near each separate sleeping area in your home. Check or replace the battery when you change the time on your clocks each spring and fall and replace the detector every five years.
If you have any questions or want anymore information please give us a call or go to our website at www.cprnmore.com 1-800-477-6193
Chris Siska
CPR and More